Robotic Surgery
Robotic surgery is a highly-specialised form of surgery.
The Norwest Private Hospital robotics programme was launched in August 2021 with the arrival of the da Vinci® Xi Surgical System, the most advanced and widely-used surgical robot in the market.
Robotic surgery is unique. It is one of the least invasive ways to operate and provides enhanced visualisation and control.
In an open procedure, a surgeon may need to create a large incision to access a hard-to-reach area of the body. In some procedures, like heart and lung operations, very big openings are needed and therefore create considerable tissue injury. The da Vinci's robotic arms, however, make small 'key-hole' openings and are steadier than a human hand. The surgeon is able to see deep inside the patient's body and control the arms from a special console that sits away from the operating table.
The combination of precision, control and minimal intrusion means that patients may experience fewer post-operative complications (like infections) and return to health faster than a traditional surgery. Robotics also suits patients who are morbidly obese.
Robot-assisted treatment is available at Norwest Private Hospital to all clinically-suitable patients in the following specialty areas:
Urology – prostate, kidneys, adrenal glands and urinary system
Colorectal surgery – large intestine
General surgery – small intestine and internal organs
Gynaecology – uterus and pelvic lymph nodes
Cardiothoracic – heart and lungs

Our Robotic Surgeons
See how the da Vinci® Xi Surgical System works

The da Vinci Xi has three components:
SURGEON CONSOLE
The surgeon console is positioned outside the sterile field, where the surgeon sits and controls the instruments with natural dexterity while viewing the surgical anatomy in a stable, high-definition 3D image
PATIENT CART
The patient cart is positioned alongside the bed (in the sterile field) and is 'docked' to the patient. The patient cart holds the camera and instruments that the surgeon controls from the console.
VISION CART
The vision cart makes communication between the components possible and supports the 3D high-definition vision system.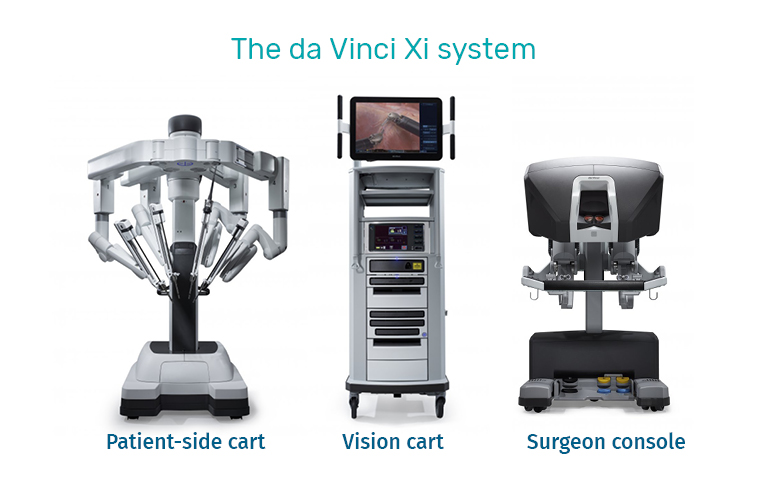 What to expect with da Vinci robotic-assisted surgery: